I am a Licensed Professional Counselor specializing in individual therapy for all sexual orientations in my private practice in Portland Oregon.
I have also been licensed for many years in California as a MFT Marriage Family Therapist .
My life has been dedicated to serving as a catalyst for healing and empowerment. In addition to maintaining a private practice, I have over 20 years experience serving clients through agencies; in battered women's shelters; at conferences and universities; and through community service and activism.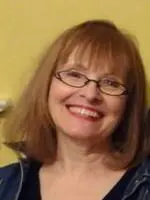 This work brings meaning to my life. I feel such joy when I see someone stuck in deep depression move into loving her/his/their life. Delight fills me when I witness someone experience and honor their own creativity.
I am a holistic, mind/body, therapist. I do both brief solution focused therapy and long term depth psychotherapy. My intuitive abilities and life experiences have given me invaluable insight and understanding of people from diverse cultures, sexual orientations, religions, ethnic backgrounds, and socio-economic groups. Years of study in various types of psychotherapy and mind/body healing have given me multiple tools from which to draw. These allow me to create a safe container for holding all the parts of you.
I specialize in helping you heal the wounds of the past and build self-esteem and worth. Feeling empowered, your heart opens and you are able to love yourself and others.
I have a background as an actress and I am a published writer.
Education :

AA degree as a Mental Health Worker.
BA Psychology with honors from Metro State College
MA Counseling Psychology from Loyola Marymount University.
Internship in Sex Therapy at UCLA School of Medicine.
License, Certifications & Awards :

Oregon LPC Licensed Professional Counselor
California MFT Marriage Family Therapist
Certified Community College Psychology Instructor.


Want to learn more? Please call 503-262-9079 or contact me: